Images and documents
Scanning and import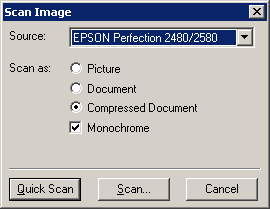 Cardbox can scan documents and photographs directly from any scanner with the TWAIN interface (all modern scanners support TWAIN). A Quick Scan button lets you scan A4 documents without having to set any parameters such as resolution or colour depth. For more advanced applications, the Scan dialog box gives you finer control over the scanning process.
If you have a scanner with automatic document feed then Cardbox can scan a whole batch of documents in one operation.
Digital cameras: Cardbox can read images from cameras with a direct TWAIN interface and also from cameras or memory cards that appear as Windows folders when you connect them to your computer.
The range of image file formats that Cardbox can read (JPEG, GIF, TIFF,...) has been expanded to include Kodak's PhotoCD.
Earlier versions of Cardbox had memory restrictions that placed limits on the maximum size of imported images and on the number of images you could attach to each record. These limits have been removed.
Preprocessing and compression
You can rotate and resize images before storing them. The image compression options have been simplified so that you only have to specify the image type (black-and-white document, colour document or photograph) and whether you want standard or high compression.
Whatever options you choose, you can see the results on the screen before you save the image into your database.
Display and printing
A new Image window replaces the old Full Screen image display mode. A zoom control lets you view images at any scale and select which images you want to print. All commands for reading, pasting, copying, printing and exporting images are available both in the Image window and in the normal record display.